PWA for an American pay television channel
Tech stack: Magento 2, AWS, PWA
Services: Online store PWA development from scratch
Location: USA
Industry: Broadcast Media Production and Distribution
Team composition: 1 project manager, 2 developers, 1 QA engineer, 1 DevOps
Timelines: 1 year

Nickelodeon, a prominent entertainment brand for kids, has established a diverse global business by prioritizing children in all its endeavors. Embracing a world-spanning approach, Nickelodeon has crafted a versatile and inclusive business portfolio, encompassing captivating television programming and productions across the United States and beyond, an array of consumer products, cutting-edge digital experiences, immersive location-based attractions, captivating publications, and captivating feature films. Paramount proudly represents the esteemed Nickelodeon brand, with all titles, characters, and logos serving as cherished trademarks synonymous with excellence in children's entertainment.
Overview
Nickelodeon has embarked on an innovative project to introduce smartwatches tailored specifically for kids. The project, named NickWatch, aims to provide children with an interactive experience centered around their favorite Nickelodeon characters. With the help of cutting-edge technology, kids can immerse themselves in endless fun, racing through tunnels with the Teenage Mutant Ninja Turtles, engaging in silly balancing acts with Spongebob, and even communicating secrets in Morse code with Lincoln Loud.
NickWatch offers more than just entertainment; it serves as a valuable learning tool, encouraging kids to explore and navigate the world with the guidance of Nickelodeon's trusted characters. Safety is paramount, and parents can have peace of mind knowing that the Data Packs include access to a Caregiver App, ensuring the well-being of their children while they enjoy their adventures.
Nickelodeon commissioned Trackimo, a developer specializing in trackers for safeguarding valuables and issuing alerts, to create NickWatch. As part of the project, the client engaged Default Value to build a Progressive Web App (PWA) website for the online store.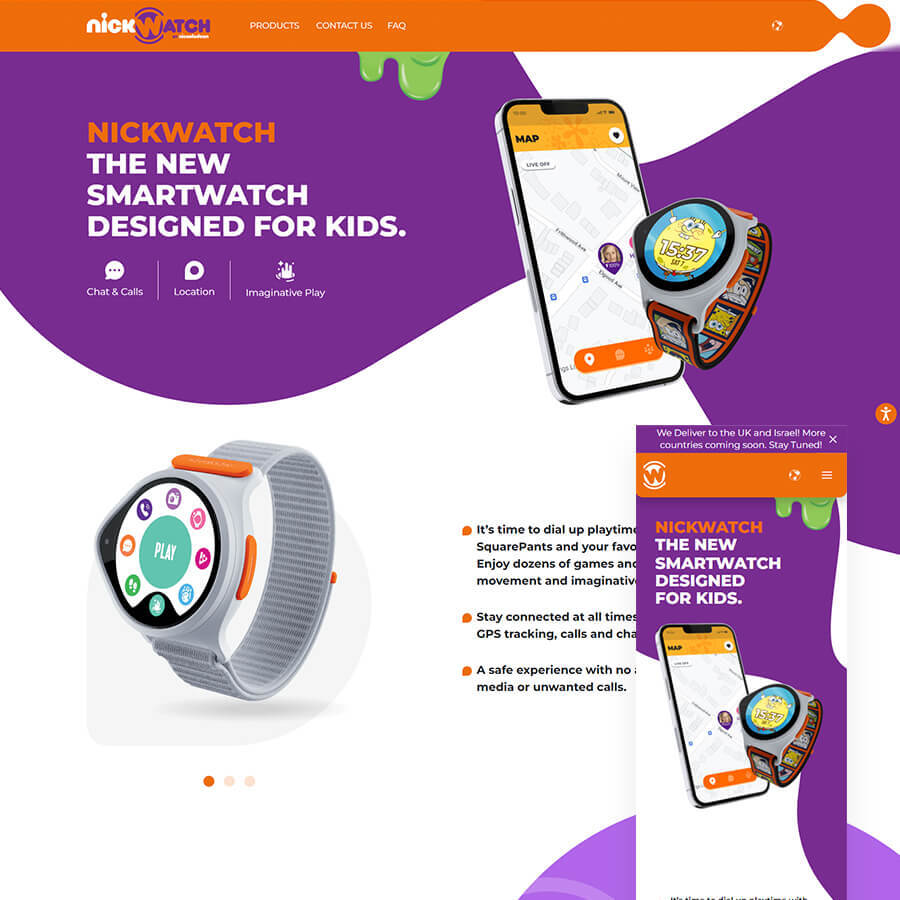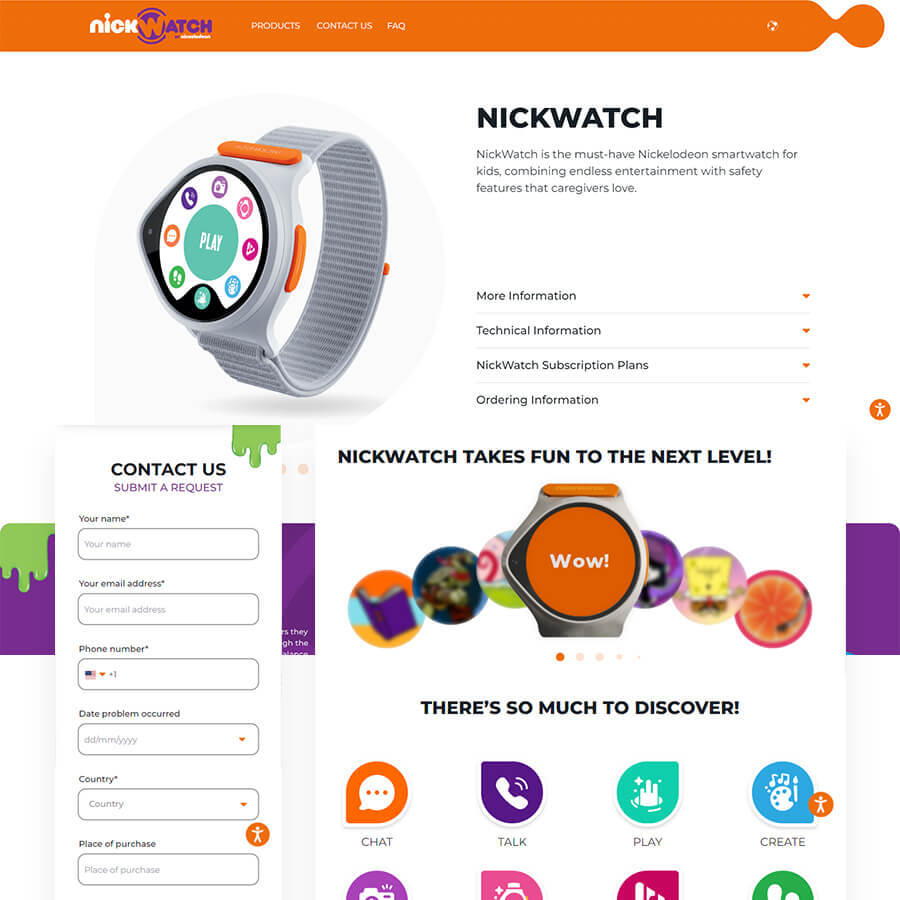 The project was divided into three stages:
website's planning

development

testing
For the website's back-end solution, our team proposed using Magento, a comprehensive e-commerce platform capable of handling all business requirements. To ensure a seamless user experience, a Venia PWA front-end theme was used, leveraging modern web technologies and design patterns to offer speed, reliability, security, responsiveness, and cross-browser compatibility. The website is also inclusive and offers several accessibility profiles:
Seizure Safe Profile: clears flashes and reduces color;

Vision Impaired Profile: enhances website's visuals;

ADHD Friendly Profile: gives more focus and fewer distractions;

Cognitive Disability Profile: assists with reading and focusing;

Keyboard Navigation (Motor): allows using the website with the keyboard;

Blind Users (Screen Reader): optimizes website for screen-readers.
Results
The PWA's offline capabilities and mobile application-like behavior made it a fitting choice for nickwatch.com. Nickelodeon expressed great satisfaction with our service. The website boasts creative solutions that appeal to children, such as familiar and vibrant characters from animated series flying across the screen when items are added to the cart.
We successfully achieved all milestones and delivered a swift and visually appealing product to the client, currently operating in the United Kingdom and Israel. Looking ahead, the client has plans to expand their services to other countries in the near future.