Migration from Magento 1 to Magento 2
Tech stack: Magento 1, Magento 2
Services: Magento 1— Magento 2 migration, Redesign, integration
Location: Denmark
Industry: E-commerce
Team composition: 1 project manager, 4 developers, 1 QA, 1 designer
Timelines: 2020-2021
Оne of the biggest partners in the distribution, sales, support, and internal
logistics of brands and products within batteries, lamps, chargers, LED technology, and related products in the Nordic region.
Selling their products for both B2B and B2C, they are one of the largest distributors in
Western Europe.
Prerequisite
Highload project due to a large number of customers and orders
Website on Magento 1
Plans to migrate to Magento 2
Need for redesign
Many custom integrations with marketing tools, payment services, ERP-system, services for determining the delivery address, checking identification code, verification of legal entities, etc.
Several languages and currencies on the website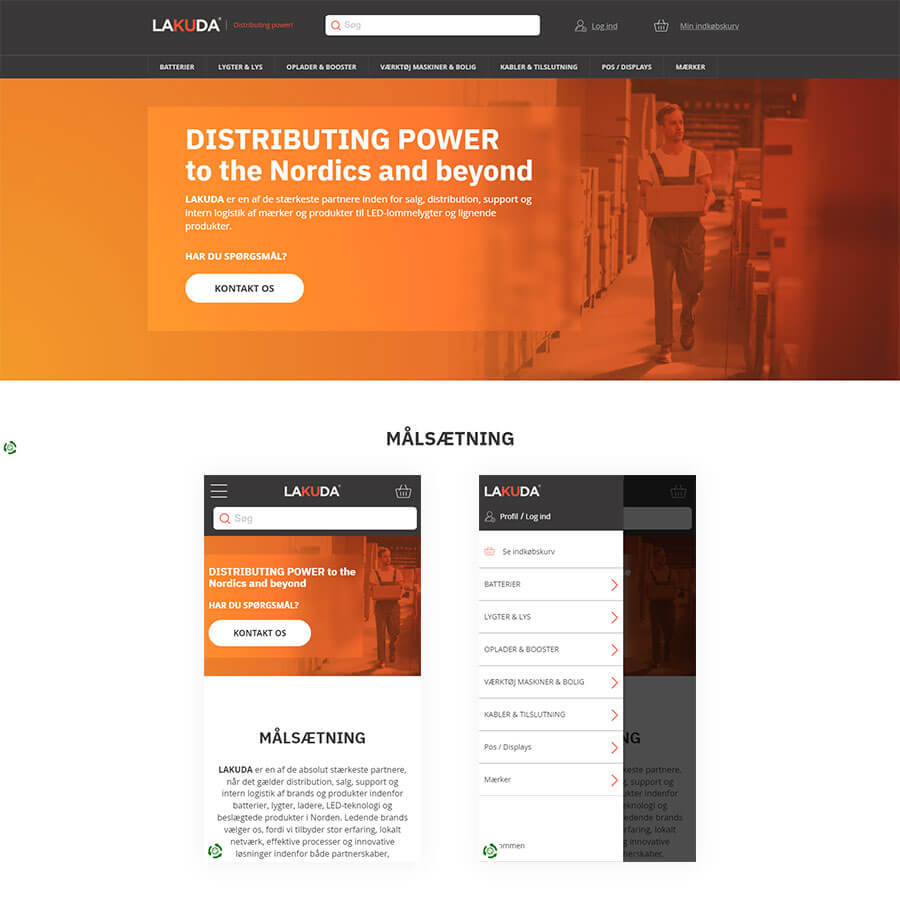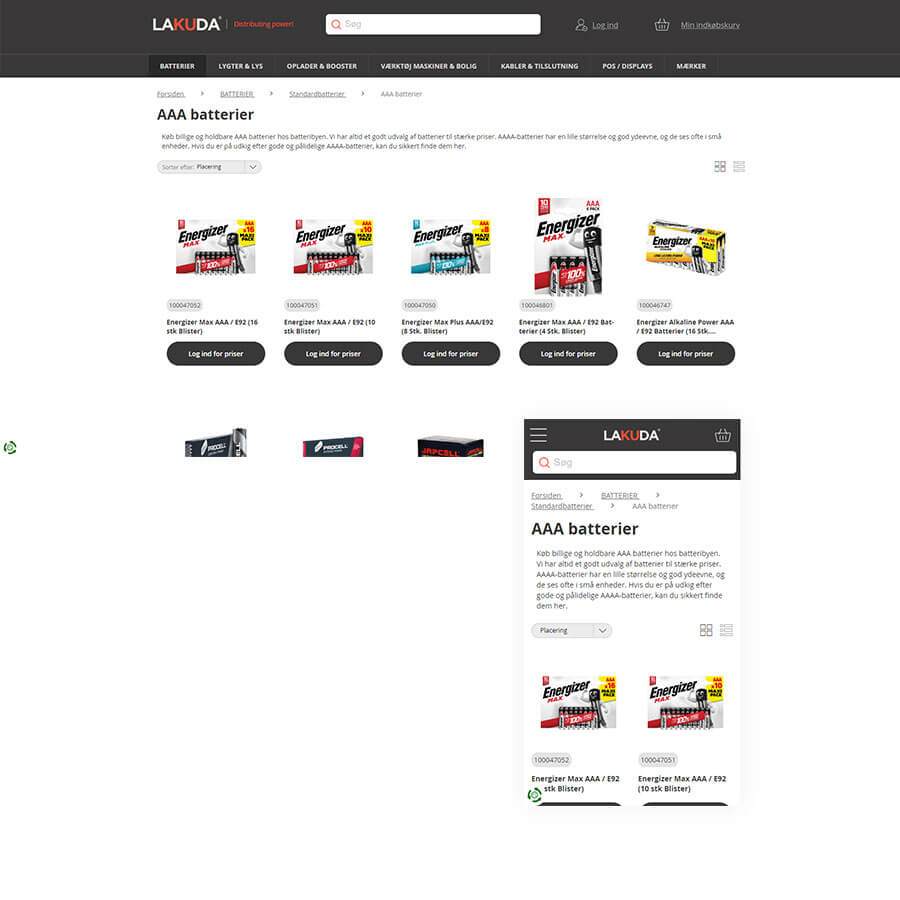 The electronics distributor found us through recommendations from our clients. The company had invested in a Magento 1 site with only one developer to support it for several years. Faced with the need for M1 to M2 migration, the client also needed a team with more experience in Magento 2.
The whole project was a challenge. It was necessary not only to change the shop's design and migrate to Magento 2 but also to preserve all the client's integrations and business processes. In addition, it is important to clarify that Magento 1 itself was highly customized to meet these business processes, which made our task a bit more complicated. In essence, we had to create a new site with the accompanying migration of data, orders, customers, and products and set up a standard customer business process on Magento 2.
Solution
The project started with an analysis of the client's business needs and processes, during which we identified key areas of responsibility for our team.
We started developing the UX/UI design. There was a standard flow in this part of the project, and we paid great attention to the mobile-first approach.
Data migration We conducted a technical review of the project on Magento 1 and made a plan for migration to Magento 2. A huge amount of data was
transferred from the old e-shop.
Ensure that the Magento Commerce migration went smoothly with no data loss and that it could be completed within a minimum downtime period. We reduced this period from 17 to 4 hours. It should be mentioned that even native delta migration was a challenge because of the enormous amount of data. The number of orders and customer data was growing every day (there were thousands of them), but we managed to transfer all the data safely and securely.
Internationalization and integrations. Our team also improved the quality of internationalization of the site and implemented a large number of integrations – particularly with Clerk, Loop 54, Klaviyo, Quick Lizard, AltPay, Webshipper, Klarna, Profitmetrics.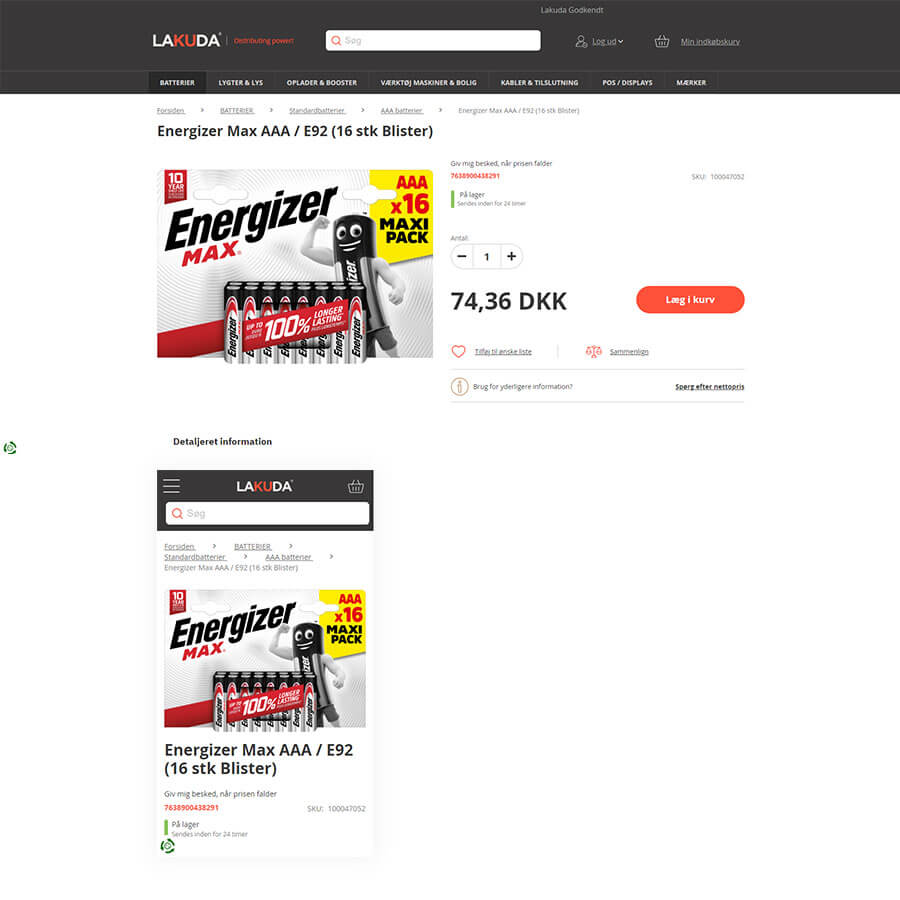 The whole project took almost a year—from September 2020 to August 2021. Our developers successfully transferred all data from Magento 1 to Magento 2 and guaranteed uninterrupted shop operation. The project was large-scale and was carried out in several phases—soft launch, refinement, and full-fledged release. Now the client has an active improvement phase of the project—with our full support.
We provide services to electronics distributor to this day. Our development team communicates directly and collaborates with the client's management and teams. We also provide them with e-commerce consulting on technical topics and handle update development—from design to implementation and maintenance.
"The DefaultValue team met the challenges with flying colors. Even now, after the end of the project, their team is deeply integrated into our business processes, acting as technical partners rather than just an outsourcing company. We are glad to have them as part of our big family."