Tech Trends That Will Be Shaping E-commerce In 2022
Over the past couple of years, e-commerce has undergone many changes to meet the challenges of the current time. The pandemic and self-isolation have profoundly affected how users approach online shopping, requiring the industry to evolve at a speed not previously expected. We at DefaultValue have been working with e-commerce for many years, which is why we are actively monitoring industry trends to offer our customers the most advanced solutions. And in this article, we decided to look at the top 5 major technological e-commerce trends that will dominate this field in 2022.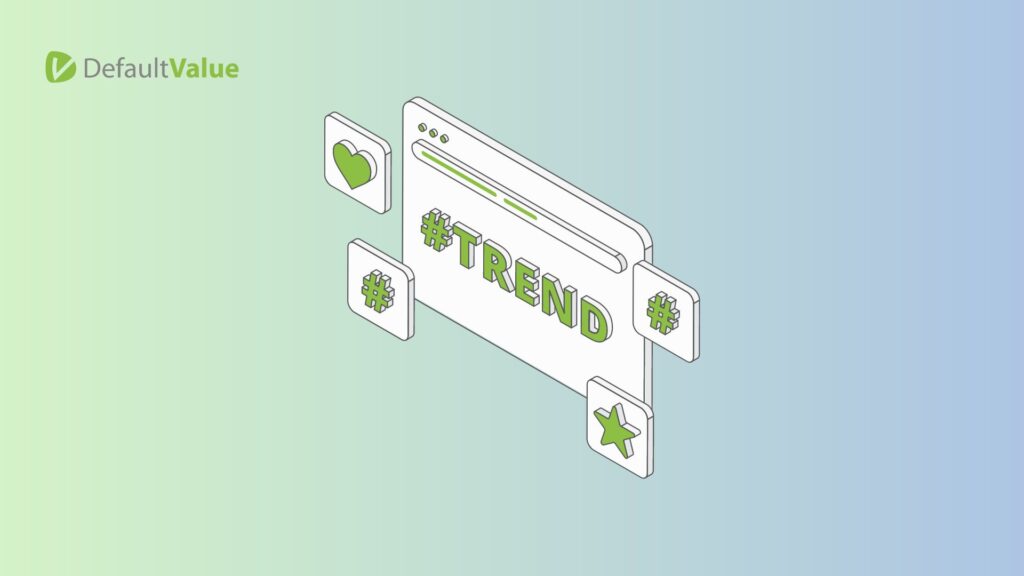 Development of mobile commerce
The increased use of mobile devices partly causes the growth of e-commerce. Shoppers are increasingly making purchases from smartphones or tablets. More than 51% of customers said they prefer mobile commerce because web apps offer them a more user-friendly UI. Payvision predicts global mobile shopping will grow to $3.79 trillion in 2022. As trust in online shopping increases, so does trust in ordering from mobile devices. Mobile commerce is also growing due to the increasing number of young consumers. Mobile devices are used to research products and reviews, even if a purchase from a stationary device is planned. It is important to understand that simply adapting an online store for smartphones is no longer enough. The situation where a customer chaotically selects an item on a smartphone and buys in a quiet environment from a computer at home will occur more and more often. So the emphasis will have to be placed on creating a seamless shopping experience. How to take this e-commerce trend into account:
the mobile-first approach in development — the interface and functionality of the site should be initially adapted for smartphones;
take into account the peculiarities of shopping from mobile devices;
make sure that your online store is optimized for smartphones;
allow paying for goods using Apple Pay, Google Pay, QR-codes.
Growth of interest in PWAs
Due to the increase in the share of users from mobile devices, the implementation of PWA (Progressive Web App) is becoming relevant. PWA is a site that looks like a mobile application but can be used in a browser as well. Progressive Web App combines the simplicity of websites with the technical advantages of apps — a great user experience and a high level of engagement, which are usually only achievable with apps.
Now you don't have to develop a website and apps separately for iOS and Android. Users can install the site on their smartphone as an app and use it even without an internet connection. PWAs are less expensive to develop and maintain while still providing a quick and easy interaction with users. The results of PWA implementation are impressive — with their help, AliExpress increased the conversion rate for new users by 104%.
Using artificial intelligence to personalize and automate sales
Artificial intelligence in an online store replaces the sales assistant, offering personalized recommendations to customers based on purchase history and website behavior. A customized experience is important to 71% of shoppers — it's an excellent opportunity to retain them. Lack of personalization leads to a poor shopping experience, in which case most users won't return to the site.
Previously, product recommendations were chosen manually and were often irrelevant. Now recommendations are automatically generated, and they are as relevant as possible to the customer's preferences. Modern tools can even predict the desires of new customers and personify entire pages on the site based on similar users' preferences. This helps build long-term relationships. Artificial intelligence helps track inventory, optimize marketing strategies, and improve service and communications. Customers get what they need, and brands get sales growth.
Over time, artificial intelligence will become more useful, and its popularity will grow. According to Juniper Research, in 2022, retailers' spending on artificial intelligence will quadruple to $7.3 billion. At the same time, 80% of e-commerce executives anticipate implementing AI-powered intelligent automation by 2027.
The growth of chatbot adoption
Chatbots can be embedded not only in social networks and messengers but also in an app or website. According to Grand View Research, the chatbot market will grow by $1.25 billion in 2025 at an average annual growth rate of 24.3%. They will become increasingly "human" and functional.
Chatbots are not only an additional channel of communication between the online store and the consumer. They will save massive amounts of time for project employees and customers — about 2.5 billion hours by 2023. Chatbots can:
suggest the right products
find the right size
answer questions
inform about the status of the order
collect feedback
accept payment for goods
Using a chatbot optimizes the buyer's journey, positively affects conversion rates, and reduces the number of returns.
The use of AR
Augmented reality (AR) improves the shopping experience, makes shopping more convenient, and reduces returns. That's because customers can make a more informed decision by trying items on in a virtual dressing room. For example, 63% of users say AR improves their customer experience. At the same time, 61% of shoppers prefer online stores that offer the ability to try on or view products in augmented reality.
Returns are a real headache for retailers. By 2023, the annual returns are projected to be $348 billion. Not surprisingly, ABI Research predicts that the number of AR technology stores will reach 120 thousand in 2022.
If you don't have the funds to develop a dedicated app, use simple solutions to adopt AR gradually:
Virtual fitting with Instagram masks — jewelry, lipsticks, scarves
Creation of 3D models, which will be opened by QR-code in the product card
Online fitting room by client's photo (clothes, interior items)
These were the top 5 technology trends for e-commerce in 2022. Remember, the earlier you start implementing them, the greater your advantage over your competitors will be!