B2B & B2C Telescope Components Manufacturer and Distributor
Tech stack: Magento 1, Magento 2, WordPress
Services: Website optimization, Module customization, Magento 1—Magento 2 migration, Design, Support
Location: Mammendorf, Germany
Industry: E-commerce, Machinery
Team composition: 1 project manager, 4 frontend & backend developers, 1 QA, 2 designers
Timelines: 2016—Ongoing (1500 hours)
Baader Planetarium is located near Munich/Germany. The company was established in Munich in 1966 and has produced more than 15,000 school-type planetariums and 500 observatory domes of all sizes since then.
However, the history of the Baader family name in astronomy begins in 1852, when Michael Baader opened an optics company in the center of Munich, having worked for the optical glass company "Martin Woerle" since 1838. Woerle acquired an in-depth knowledge of optical glass manufacturing and the secrets of producing and testing achromatic lenses under the direct supervision of "Josef von Fraunhofer," one of the founders of modern optics and inventor of the "German Mount."
In Germany, Baader Planetarium is an importer of Astro Physics- and SBIG instruments and serves Carl Zeiss amateur telescopes under contract to Carl Zeiss Jena.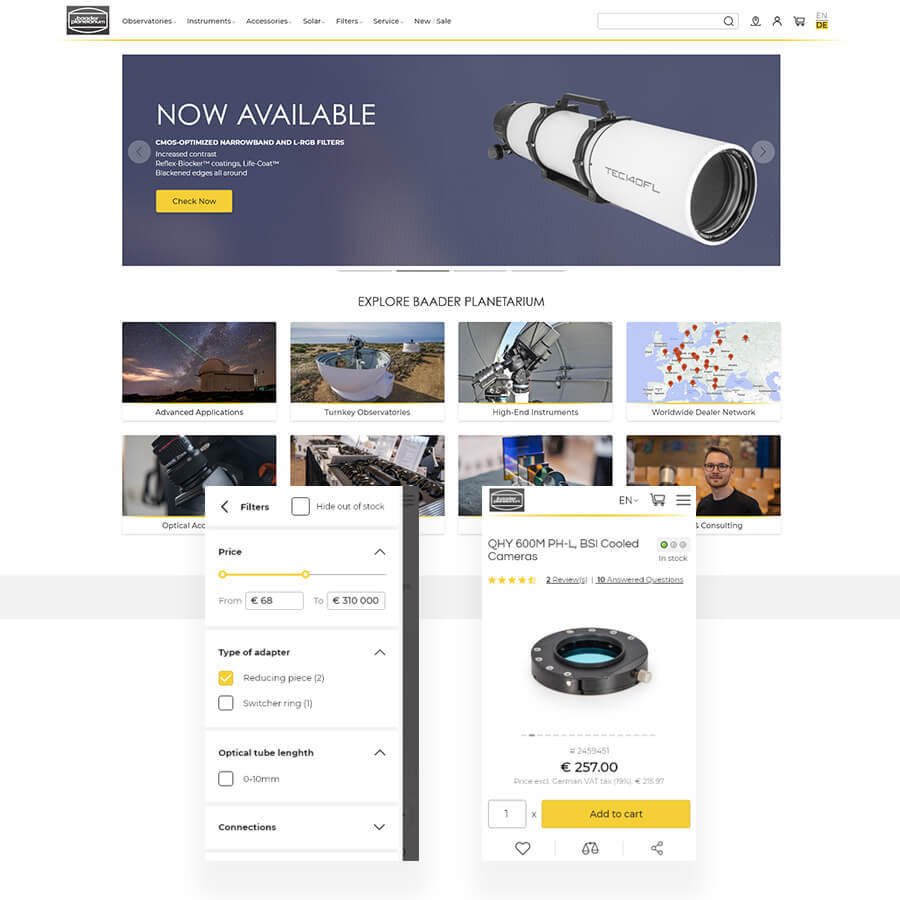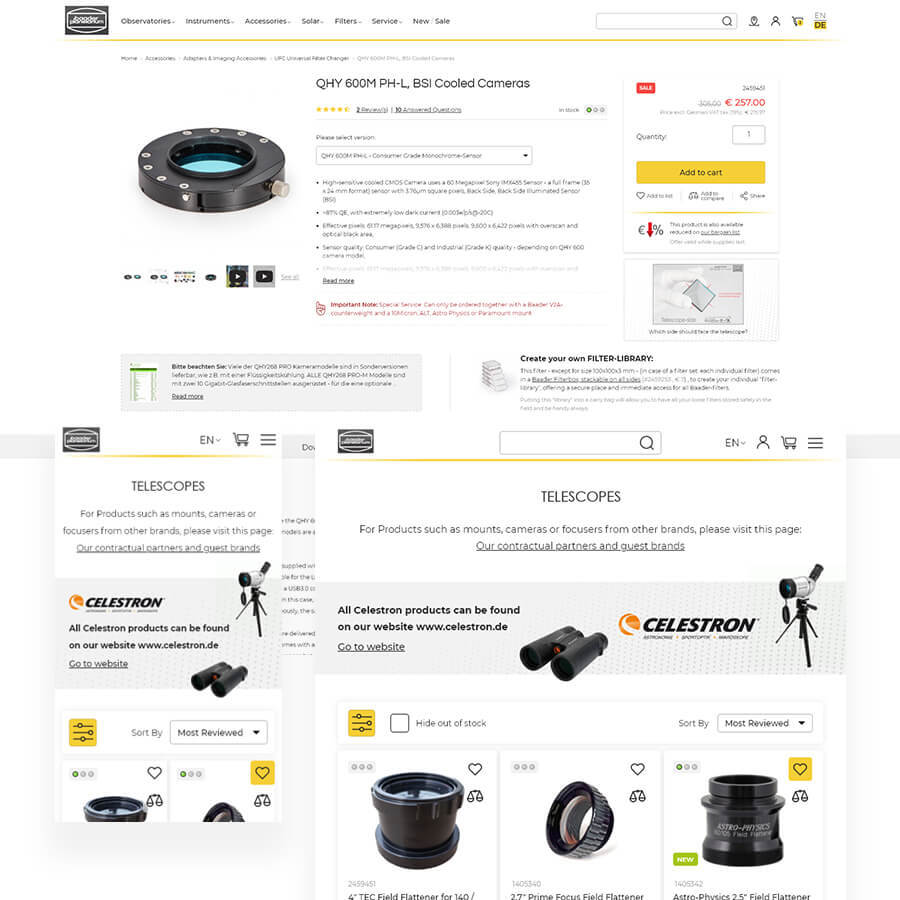 The client contacted us in 2016 after purchasing our Detailed review module. First of all, it was necessary to customize the module on the site. During this phase of work, we did different tasks, from fixing bugs to developing new functionality. All this was done on the synthesis of Magento 1 and WordPress. Combined with ongoing support, this phase continues to this day.
In addition, Baader Planetarium decided to migrate to Magento 2 in 2022. So we started a new migration project on Magento 2, which is now in an active development phase. As of February 2023, that task is 50% complete.
The migration project has one special feature—it's being implemented on PWA (Progressive Web App). This means that we use modern technologies and web design approaches, and the entire Magento frontend is derived from PWA.
Challenge
The company's website has a map with many filters and markers, each corresponding to worldwide observatories. You can see detailed information about the observatory when you click a tag. The specifics here lie in the fact that the page and the map are developed on Magento 1, but the content for each marker is on WordPress. That is, there is an integration of Magento 1 and WordPress. At the same time, the basis for the map is taken by Google Maps. This is a very customizable feature that the client ordered earlier. It took our team a long time to tweak the page content on Magento 1, add new features, and fix bugs that came before us. And now, at the latest stage of the project, we need to repeat the same on Magento 2.
The first phase of a project on Magento 1, although it lasts a long time, does not have many stages:
Investigation

Expanding functionality

Support
The Magento 1—Magento 2 phase, which is under active development, looks much more interesting:
Project estimation

Design preparation

Data migration from Magento 1 to Magento 2

Migration of custom functionality

Design implementation
When the project reaches its final phase, testing and release of a new version of the site will also be added to this list.

Results
Currently, the project is in the active migration phase to Magento 2. We aim to help the client integrate and modify their new commercial extension.
That's what Baader Planetarium GmbH says about us:
"They are a very friendly team, also up for some private chat in between work. The Default Value team is quick, effective, and cost-efficient. Their workflow and communication are great. They answered questions quickly and met all the projected timelines."